Susan and I spent much of the day on Saturday visiting some of the newer monuments on the National Mall in Washington, D.C. We had not yet seen the Martin Luther King Memorial, the FDR Memorial, or the World War II Memorial. When the opportunity to do so presented itself, we visited those monuments and were struck by their beauty and dignity.
Washington, D. C. is, in many ways, a giant memorial. Most of the prominent Union heroes of the Civil War are honored with prominent monuments in traffic roundabouts, with none more prominently honored than U.S. Grant. In many ways, the whole city is a memorial to the Union veterans of the war.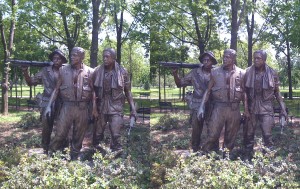 The first large memorial to be dedicated was the Vietnam War Memorial, which has taken on an iconic status. Although its design was initially excoriated, it remains a moving and incredibly respectful memorial to the American soldiers who sacrificed so much in the far-away jungles of Southeast Asia.
Then came the memorial to the forgotten war, the Korean War. This gorgeous memorial depicts cold, wet, tired American soldiers fighting to protect the freedom of the South Korean republic. It is moving and haunting all at the same time. It is an appropriate monument to their sacrifices.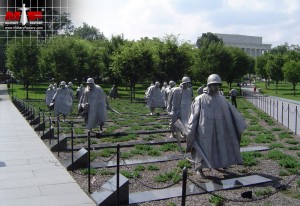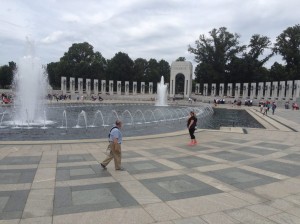 The most recent memorial to be dedicated was the massive monument to the American contribution to the Allied victory in World War II. We visited it on Saturday, and given that my father and his brothers were members of that generation, and I have known many World War II vets, I found it to be an incredibly moving experience. There were dozens of old vets visiting the memorial, brought there by Honor Flights (an incredibly worthy cause that I encourage all of you to support). I thanked many of them for their service and found myself missing my father a great deal.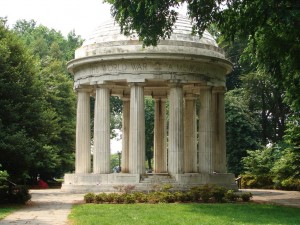 I then realized that, despite the fact that 2,000,000 Americans served in World War I, there is national memorial to them. I found that staggering, and it made me terribly sad. There is a small memorial to Washington, DC's contributions to World War I, but no national memorial. Until recently, this memorial was largely forgotten–it did not appear on maps of the Mall, it was not maintained, and it was in bad shape. Fortunately, it has been restored, but I never even knew it existed before Saturday, when I saw it for the first time (and I lived in Washington, DC for a year in college and spent a lot of time on the Mall).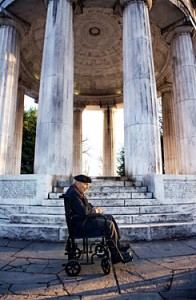 The last World War I veteran, Frank Buckles, who died in 2011, made the placement of a national memorial to World War I a priority of his. Mr. Buckles testified before Congress in 2009 and lent his name to the effort to place a proper memorial on the Mall. That's a photo of Mr. Buckles, seated in his wheelchair in front of the Washington, DC World War I Memorial. Legislation was introduced in Congress, but it failed. Given that the Congress is the most incredibly dysfunctional institution in the United States, that sadly comes as no surprise.
Please consider supporting the placement of a national memorial to the 2,000,000 American soldiers who served in World War I on the National Mall Please consider helping to make Frank Buckles' last wish come true. For more information, click here.
Scridb filter