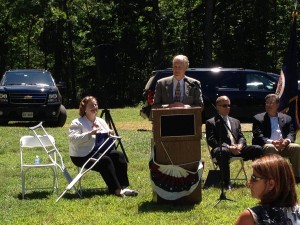 This is a post that I have been waiting to write for a long time to write, and I cannot tell you how pleased I am to do so. I actually have known about this for some time, but it's been hard keeping such wonderful, exciting news to myself. But now I can share it with all of you….
Today, Governor Bob McDonnell of Virginia announced that the Commonwealth had conveyed a $700,000+ grant to the Civil War Trust for assistance in acquiring the 58 acres of Fleetwood Hill represented by the Troilo family's holdings. These most-recent funds helped put us over the top. meaning that we were able to raise the entire $3.6 million, and that the closing on the property recently occurred!!!
Thanks to all of you, as of last week, the Civil War Trust owns Fleetwood Hill!!! We did it!!! We saved Fleetwood Hill!!!
Mr. Troilo is in the midst of building a new home, and until that new home is completed, he will retain tenant occupancy of the McMansion on the hill. A generous individual has already pledged the funds necessary to demolish the McMansion, meaning that once it has been vacated, the McMansion will be torn down. Expect an announcement regarding those festivities once I know the details.
This great accomplishment is the culmination of Bud Hall's decades-long efforts to preserve the battlefield at Brandy Station, and this parcel is the crown jewel. None of this would have been possible, but for Bud's hard work, and Bud can now proudly sit back and proudly enjoy the fruits of his labor. Bud also helped raise a great deal of the money for the acquisition.
Obviously, this also could not have happened but for the hard work of the good folks at Civil War Trust, who found the grants, engineered them, and then made all of this possible. We owe a great debt of gratitude to everyone there, but especially to the hard work done by Jim Lighthizer, Jim Campi, David Duncan, Tom Gilmore, and the others at the Trust who made this deal happen.
The biggest debt of gratitude of all is owed to the good folks who donated their hard-earned money to make this happen. $3.6m is a very large sum of money and raising that much money in a short period of time was a daunting prospect. But, as I knew you all would, people rallied to the flag and gave freely to allow us to not only meet the goal, but to close the transaction on time.
Thank you to Tony Troilo for finally doing the right thing and selling Fleetwood Hill so it could be forever preserved.
And finally, in a perverse way, we owe a debt to Useless Joe McKinney and the Board of Appeasers of the Brandy Station Foundation. But for their egregious abrogation of their duty to preserve and protect the battlefield, Lake Troilo would not have happened. And had Lake Troilo not have happened due to their horrific malfeasance, Bud Hall would not have reported the destruction of that portion of the battlefield to the Army Corps of Engineers. But for the intervention of the Army Corps of Engineers, we would still have Lake Troilo, and Mr. Troilo would not have grown so weary of fighting us that he would not have agreed to sell the property to the Civil War Trust. So, something good came out of the terrible malfeasance of Useless Joe and his Board of Appeasers, but it most assuredly does not excuse their refusal to act and their refusal to do their duty to preserve the battlefield. Shame on all of you. Nobody will soon forget your egregious failures to do your duty.
Let's not allow BSF malfeasance to spoil this happy, momentous occasion. Instead, let's celebrate one of the most important preservation victories to date by you and by the Civil War Trust. Well done!
Announcements regarding events to celebrate the acquisition of Fleetwood Hill will be forthcoming soon. Stand by for those.
Scridb filter