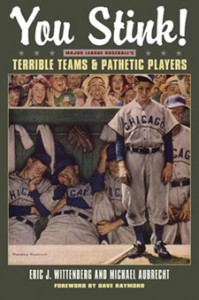 >You Stink! Major League Baseball's Terrible Teams and Pathetic Players is a Homerun!
Written By Michael Aubrecht and Eric Wittenberg. Published by Kent State University Press (Black Squirrel Books)
2012-2013 Amazon Best-Seller: Listed in Top 100 'Baseball' and Top 10 'Baseball Statistics' categories. Now available in both Paperback Edition and improved Kindle Edition
There are countless volumes celebrating the best teams in professional baseball. Unfortunately, winning represents only one side of the game. For every champion's record-setting season, there has been an equally memorable story of defeat. These teams and their shameful contributions to America's national pastime have been a neglected topic in the annals of baseball history. Until now. You Stink! includes franchise origins, detailed stats, player profiles, photos, and more, as well as a collection of long-format essays in a "Hall of Shame" that recognizes some of the worst moments ever witnessed on a ball field.
For more information, visit the You Stink! Blog or You Stink! Facebook page.
Authors are now booking signings and speaking engagements for 2013. Please contact me via this blog if you are interested.
Here's what some readers have said about You Stink!
"For baseball fans who love to devour any words about the game, 'You Stink!' is like a disease — you know the 'achievements' are awful, but you keep coming back for more." – Bob D'Angelo, The Sports Bookie, Tampa Bay Online
"It's a funny book, but with serious overtones. Whether you're a baseball fan, or don't know anything about baseball, this is a great book." – Greg Rasheed, KGNU Radio, Denver, CO
"Wittenberg and Aubrecht humorously profile, in total, 15 terrible baseball teams of truly historic proportions…Nifty black-and-white photos and pages of stats will lighten the perspective of Cleveland sports fans. (Grade: A-)" – William Kist, The Cleveland Plain Dealer
Scridb filter