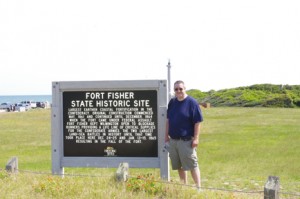 Mother Mother Ocean, I have heard your call….
So wrote Jimmy Buffett nearly forty years ago in my favorite song of his, "A Pirate Looks at Forty."
I have heard its call too. I've heard it for my whole life. My favorite sound in the world is the sound of the surf crashing against the beach. My favorite sensation is having sand and ocean water between my toes. My favorite sight is the horizon where the sky meets the ocean in the distance, with the vast expanse of water in between. I feel at home at the beach. More importantly, I feel happiest when I am at the beach. And I feel most at peace here. There is nothing more therapeutic for me than standing on the beach, flying my kite, with the ocean waves lapping at my feet. It's sheer joy. Nothing beats the tranquility of watching my kite ride the waves of the sky while the ocean waves cover my feet. It's the one time when I truly feel completely at peace. I spent nearly 90 minutes doing that today, and it seemed as if just a few minutes had passed. And for those nearly 90 minutes, all was right with the world. For those nearly 90 minutes, I forgot all about the stresses and pressures of my job, and for those nearly 90 minutes, I was immune from the toll that the ordeal with my parents has taken on me.
Susan and I are presently in Kure Beach, North Carolina for the week. We're here with our friends Tom and Debbie and their daughter Elizabeth. This is our second summer vacationing with them, but it's certainly not our first visit to the Cape Fear region. Susan and I first started coming to the Wilmington area in 2002, when I was first invited to speak to the Cape Fear Civil War Roundtable by my friend Chris Fonvielle. We've been coming here for at least a week for nearly every year for the last ten years. It brings about the intersection of two things that are near and dear to me: the Civil War and the beach, so I always savor these visits. Some years, we've come here twice. We love this area, and I can easily see ourselves retiring here someday. That's the dream, anyway.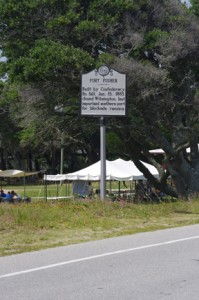 Kure Beach is at the southern end of Pleasure Island. The southern tip of the island is where the remains of Fort Fisher are. Fort Fisher was a behemoth fort made entirely of sand. Its purpose was to keep the vital Cape Fear River open to Wilmington, about 17 miles upriver, so that blockade runners could continue to supply the Confederacy. When Fort Fisher finally fell in January 1865, the final ocean going port available to the dying Confederacy was closed, and the beginning of the end came. For those interested, Chris Fonvielle has written THE definitive work on the Wilmington Campaign, which I highly and strongly recommend to you.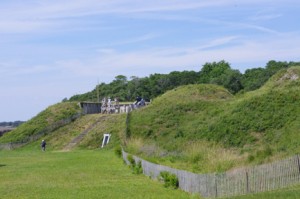 The years have not been kind to Fort Fisher. The entire eastern face of the fort is gone, devoured by the hungry waves and the destructive forces of the many hurricanes that have battered Cape Fear since 1865. A segment of the northern face of the fort remains, but it's incomplete. Part of it was lost to the waves, and another part of it was lost to World War II, when a grass runway for coast watching aircraft was developed at the cost of some of the fort's sand ramparts. Battle Acre, where the monument to the Union soldiers who fought and died to capture Fort Fisher stands, now sits nestled among a major recreation area. The southernmost battery, Battery Buchanan, also remains, but there is very little left. Although there is very little of Fort Fisher left, what remains is the most heavily visited historic site in North Carolina.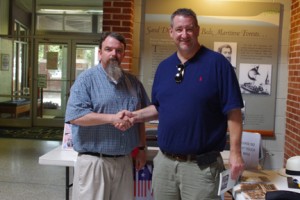 We paid a brief visit there yesterday upon our arrival in the area. I collect pins from Civil War battlefields that festoon my old Civil War Preservation Trust hat, and I needed one for Fort Fisher, so we headed there to get one. When Susan and I got there, we were pleased to find fellow Civil War historian, author, and blogger Michael C. Hardy. Susan took this photo of Michael and me, and I used the opportunity to purchase a copy of Michael's new book on North Carolina in the Civil War for my burgeoning collection of books on the subject.
We have rented a house in Kure Beach for our week here. It sits just over two miles due north of the northern face of Fort Fisher, just across Fort Fisher Boulevard from the ocean. In 1865, this area was wide open sand dunes, covered only by the maritime forest and the occasional shack. Today, it's a very popular beach resort area filled with upscale homes that are rented to folks like us. In 1865, this area was certainly within the range of the huge guns that peppered Fort Fisher. The land-based Union assaults on Fort Fisher staged here and kicked off from here, and this area was surely struck by shells from the Confederate guns at Fort Fisher. In short, the house we have rented for the week sits on a Civil War battlefield.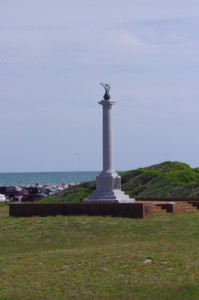 And that causes me to suffer the terribly mixed emotions that I am now feeling. As I mentioned at the beginning of this post, this is where I feel most at peace with the world and most happy. But the fact that all but a small portion of the Confederate goliath at Fort Fisher has been destroyed bothers me a great deal. I completely understand that this is some of the most desirable and most expensive real estate in the United States, and I completely understand that the inexorable march of progress dictates that not every inch of every battlefield can be preserved. I get that. And I am grateful that the small surviving piece of Fort Fisher is preserved and is in good hands. But my time here in Kure Beach is marked by terribly mixed emotions. The development really irks the battlefield preservationist in me. The rest of me adores the beach and the ocean and the fact that I am where I should be in the universe. I have learned to balance those mixed emotions, but they nevertheless rear their ugly head from time to time. Today happens to be one of them.
The cannons don't thunder, there's nothing to plunder, I'm an over-forty victim of fate…
That's "A Pirate Looks at Forty" again. And I think it sums me up best of all. I was born more than 150 years too late to have been a Civil War cavalryman, but I feel drawn to their stories, and I feel compelled to share them. Jimmy Buffett often says that this song is to ease people's pain. It works for me. And it helps me to balance my mixed emotions.
My occupational hazard is my occupation's just not around…
No, it's not. And so, I lawyer on. But I will keep fighting the good fight of battlefield preservation, and I will continue to tell the stories of the men who fought, died, and gave the last full measure of their devotion. And I hope that all of you will accompany me on that journey a bit longer.
Scridb filter