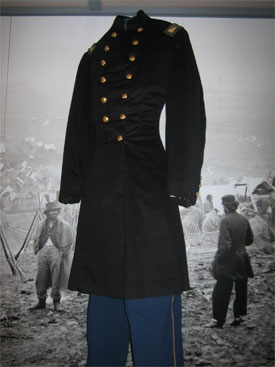 Several months ago, thanks to Joe Bilby, the authority on all things New Jersey Civil War, I learned that Ulric Dahlgren's colonel's dress uniform was in the collection of the Historical Society of Princeton.
Ulric's oldest brother was named Charles Bunker Dahlgren. Charlie Dahlgren named his first son Ulric in honor of his slain brother. The second Ulric Dahlgren, born six years after his namesake was killed in action, became one of the world's most famous scientists. He was a world-renowned biologist and zoologist, and was an award-winning and long-tenured professor at Princeton University. Somewhere along the line, Charlie Dahlgren came into possession of his brother's last dress uniform. That uniform ended up in a trunk in the attic of the second Ulric Dahlgren's son, and a purchaser of the house eventually discovered it. It was then donated to the Historical Society of Princeton.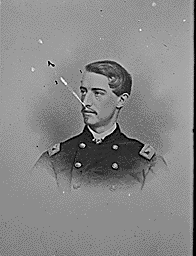 The Society recently kicked off an exhibit on New Jersey in the Civil war, and for the first time ever, the uniform is on exhibit. This photo was forwarded to me by the Historical Society so I can include it in the book. There's also a CDV of Dahlgren wearing this uniform posted here. The CDV was taken in Philadelphia in November 1863, shortly before Ulric went to visit his father in Charleston, SC for the next couple of months.
I find a couple of things remarkable about it.
Dahlgren stood over 6 feet tall, but I doubt that that uniform jacket is bigger than a size 40 or so. Now, I'm not a slender fellow, but I was once. When I was 18, I was 6'3″ and weighed about 170 pounds. Even then, I wore a size 44 suit coat. Although Dahlgren was tall and very athletic, he obviously never filled out.
The other striking thing about it is the condition. The thing is in absolutely immaculate condition. It obviously was not worn often by Dahlgren before his fatal mission. It also was obviously well cared for by its subsequent stewards.
It will make a great addition to the book.
Scridb filter