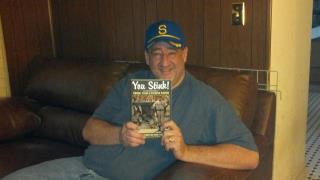 Susan and I went out of town this weekend, and when we got home this afternoon, she noticed a box on the front steps of our house. When she grabbed it, she saw that it was from the Kent State University Press, which could mean only one thing: I had gotten my author copies of You Stink! Major League Baseball's Terrible Teams and Pathetic Players! After 38 years of waiting, I can finally hold the culmination of my idea.
I'm wearing the hat of the 1969 Seattle Pilots in the photo. The Pilots are one of the teams profiled in You Stink!, so I thought it appropriate to wear their hat for the first photo of me holding a copy of the book. In my humble opinion, that's the ugliest hat ever worn in the history of the Major Leagues, so it's also appropriate for the subject matter of the book.
Please visit our You Stink!blog for more fun stories, and please contact me if you're interested in acquiring a copy of the book.
Scridb filter