It's been quite a while since I last profiled a forgotten cavalryman. In many instances, the soldiers that I profile were heroic in their own but were nevertheless forgotten by history. In this instance, we celebrate a soldier whose incompetence and inefficiency make him worthy of remembrance. I learned of the inefficient career of William L. "Mudwall" Jackson while working on my White Sulphur Springs book, and realized that he's one of those forgotten horse soldiers who deserves to be remembered, if for no other reason than his magnificent nickname.
Jackson, a second cousin of the lamented Confederate hero, Lt. Gen. Thomas J. "Stonewall" Jackson, was born on February 3, 1825 in Clarksburg in what later became West Virginia. He was a descendant of John Jackson, a member of a landed Irish family who settled in Maryland about 1748, and twenty years later removed to the Buckhannon River region of western Virginia. His son Edward was the grandfather of both William L. Jackson and Thomas J. Jackson. One of John Jackson's sons served as a Congressman from Virginia, and one of his grandsons later served as governor of West Virginia.
Young William's father died in 1836, when William was only 11, leaving the family with serious financial problems. The boy ended up with the responsibility of the bulk of the chores on the family farm. In 1838, his mother remarried. His new stepfather, although a minister, harbored political aspirations, which evidently rubbed off on William. An uncle, John Jay Jackson, took in William and allowed the young man to apprentice in his law office in Parkersburg in what became West Virginia. John Jackson was a prominent and prosperous local attorney, and William learned the tricks of the trade from his uncle.
In 1847, he completed his legal studies and was licensed to practice law, which became a lifelong pursuit. He returned to his home town of Harrisville, where he opened his own law office. Jackson's career as a jurist and Democratic public official during the ante-war period was prominent and distinguished. He served as Commonwealth's Attorney in his district and was twice elected to the Virginia Legislature. He also served twice as Second Auditor, as Superintendent of the State Library Fund and as Lieutenant Governor of Virginia (1857-1860). In 1860, he was elected Circuit Judge of the Nineteenth Judicial district of Virginia. He married Sarah Elizabeth Creel on December 19, 1849, and together they had three children.
William L. Jackson was a big man, standing about six feet tall and weighed about 200 pounds. He had a shock of dark red hair and piercing blue eyes like those of his famous cousin, all of which made him stand out in a crowd. Jackson was not known as an eloquent speaker, but he was known as a forceful one.
In 1861, when he had been but once around his circuit, the war broke out. Judge Jackson strongly supported Virginia's secession and enlisted in the Confederate army as a private. He quickly made his way up the ranks. In May, 1861, Major F. M. Boykin, Jr., writing from Grafton, recommended that General Robert E. Lee appoint Judge Jackson to military command at Parkersburg, as "a gentleman of great personal popularity, not only with his own party, but with those opposed to him politically, and devoted to the interests of Virginia, to the last extremity."
On May 30, the advance of a strong Union column drove a small Confederate force out of Grafton. At daybreak on June 3, the Federals surprised this same unit, commanded by the Confederate Colonel George A. Porterfield, at Philippi, forcing Porterfield to withdraw his green and bewildered troops south to Beverly and then twelve miles further to Huttonsville. The Federal seizure of Beverly, at the junction of the Staunton-Parkersburg stage road and the turnpike to Grafton, would secure northwestern Virginia for the Union and place Staunton in grave danger. All Confederate troops available were hurried there from Staunton, and a qualified officer, Colonel Robert Selden Garnett, Adjutant General of Lee's headquarters, was ordered to proceed to Western Virginia to assume command of these troops.
Jackson was commissioned a lieutenant colonel of Virginia volunteers, and reported for duty to Colonel George A. Porterfield at Huttsonville, Randolph county, in June. Two new regiments of infantry were organized, and Jackson was commissioned colonel of one of them, the 31st Virginia Infantry. Jackson established his headquarters at Hunttonsville, where he was responsible for defending the so-called "Huttonsville Line", which stretched for about thirty miles from southwestern Pocahontas County to Warm Springs in Highland County. His primary responsibility was to block any movement toward Staunton by Union forces.
In 1862 he became a volunteer aide on the staff of his cousin, Stonewall Jackson. While serving on his famous cousin's staff, Jackson served in the campaigns and battles around Richmond, Cedar Mountain, Second Bull Run, Harpers Ferry and then at Antietam.
On February 17, 1863, the Confederate War Department authorized Jackson to raise a regiment for the Provisional Army of the Confederate States of America within the lines of the enemy in West Virginia. By early April, he had organized and recruited a new unit, the 19th Virginia Cavalry, and Jackson was elected colonel. The new regiment joined the brigade of Brig. Gen. Albert G. Jenkins, as part of the Army of West Virginia, commanded by Maj. Gen. Samuel Jones.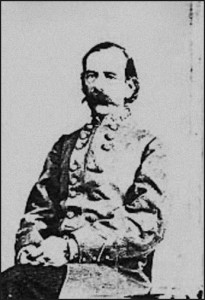 The newly-formed 19th Virginia Cavalry participated in several raids, with Jackson commanding his regiment and acting as Jenkins's adjutant general. His men joined the Jones-Imboden Raid against the Baltimore & Ohio Railroad, where the unit secured 300-400 new recruits. In July, he commanded a second expedition to Beverly, where and at Huttonsville he was engaged with Brig. Gen. William Woods Averell's Fourth Separate Brigade of the Middle Military District command. He continued in the department of Western Virginia, frequently opposing Federal incursions, his command increasing to the dimensions of a small brigade of cavalry, during the remainder of 1863. His lackluster pursuit of Averell's raiders during the August 1863 raid that culminated in the Battle of White Sulphur Springs earned Jackson the unflattering moniker of Mudwall.
While pursuing Averell through Huntersville, Jackson's troopers found "Mudwall Jackson" scrawled on the walls of the old county courthouse, "the principal feature of which was a complaint that 'Mudwall Jackson' would not fight," as Confederate soldier John McNeel reported. McNeel saw this graffiti a few days after Averell's men evacuated Huntersville, "and it was understood by the Confederate soldiers as having been put there by a Yankee soldier, and as we Confederates understood it at the time, the animus of the verse was because the dead 'Stonewall' had been so hard on the Yankees, and the live 'Mudwall' had escaped their net."
"The fact is, he was as brave a man as lived, and never refused to fight, when the attendant circumstances were anything like equal," claimed one of Jackson's men. While Stonewall Jackson was most famous for his brigade's stand at the First Battle of Bull Run, Mudwall Jackson was notorious for giving way. A Confederate soldier explained the origin of the nickname: "We called him 'Mudwall' in contradistinction from Stonewall Jackson because 'Old Averill', as we called Gen. Averill, always without an exception ran over him, knocked him down and ran him off."
Averell nearly destroyed Jackson's small brigade during the November 1863 Battle of Droop Mountain. After defeating Jackson's command at Mill Point in Pocahontas County, West Virginia, Averell drove the Southern cavalry to Droop Mountain, where Brig. Gen. John Echols's infantry brigade reinforced Jackson's cavalry. In the Battle of Droop Mountain, Averell turned the Confederate flank and routed the Southern command from the field, inflicting another ignominious defeat upon Jackson's little brigade.
In the spring of 1864, Jackson was stationed at Warm Springs. He fought at Cloyd's Mountain in early May, where Jenkins was killed, and then he joined Maj. Gen. John C. Breckinridge's command. He assumed command of a cavalry brigade, participating in opposing Maj. Gen. George Crook's May 1864 expedition, and he helped to defend Lynchburg from the advance of Maj. Gen. David Hunter's army in June. After the repulse of Hunter's army, Breckinridge's command–and Jackson's brigade, joined Lt. Gen. Jubal A. Early's army as it advanced down the Shenandoah Valley, crossed the Potomac River into Maryland, and advanced on the defenses of Washington, D. C. When Early fell back, Jackson commanded his brigade when it served as Early's rear guard, and repulsed a Federal attack at Rockville, Md.
His brigade was assigned to the cavalry division of Maj. Gen. Lunsford Lomax, and was involved in nearly every engagement during the 1864 Shenandoah Valley Campaign, including the Third Battle of Winchester, the fight at Fisher's Hill and Port Republic, the Battle of Tom's Brook (the worst defeat suffered by the Confederate cavalry in Virginia during the entire Civil War), and in the Battle of Cedar Creek, among others. He was promoted to brigadier general on December 19, 1864. On May 3, 1865, he disbanded the last organized Confederate forces at Lexington, Va., after Lee's surrender at Appomattox.
Worried about being charged with treason, Jackson fled to Mexico, but soon returned to the United States and gave his parole in Brownsville, Texas on July 26, 1865. He returned to West Virginia, but learned that ex-Confederates had been banned from practicing law in the Union's newest state.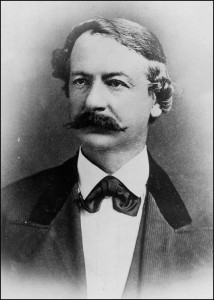 Forbidden to practice law in his native state, West Virginia, Jackson, with his wife and children, instead settled in Louisville, Kentucky, where he resumed his pre-war legal career. He soon attained prominence in the local legal community, and in 1872 he was appointed Judge of the Jefferson Circuit Court. Based on a sterling reputation as a stern, fearless but eminently fair judge, he was regularly re-elected to that office until his death from Bright's Disease on March 24, 1890. His judicial career was distinguished by high moral courage, as well as professional ability, and he was regarded as one of the leading jurists of Kentucky. "Judge Jackson was always noted for his fastidious dress, polished manners and dignified bearing," recorded his obituary. "Upon the bench he was sternness personified, but in private life a most agreeable gentleman and of an exceedingly social nature. His form was tall and his features clean cut and remarkably handsome."
"A man more highly respected or more ably endowed never occupied the seat. He has been an ideal Judge-stern and impartial in enforcing the law, but with a kind heart beneath his severity, ever prompting him to be merciful. He is a man of great personal courage, and never shrunk from the performance of his duty, under the most trying circumstances," claimed the Parkersburg, West Virginia newspaper a few days before his death. "In private talks he is as genial and courteous as he is dignified. His face is a splendid Roman face, and is an index of a splendid Roman character. His friends could never do enough for him and his enemies pay tribute to his nobility and worth."
Mudwall Jackson was buried in Cave Hill Cemetery in Louisville. When his wife died, she was buried alongside him, and the two rest under a handsome rose-colored granite monument.
While William L. Jackson may not have been a great battlefield commander, he was, by all accounts, a good man and an excellent jurist. And he is worth remembering if for no other reason than for his magical nickname of "Mudwall." Here's to Mudwall Jackson, forgotten Confederate cavalryman.
Scridb filter