The city council of Lexington, VA has voted, 4-1, to ban the display of the Confederate battle flag on flagpoles owned by the city. Here's a link to some media coverage of the issue. Kevin Levin has also had quite a bit of coverage of this issue on his blog over the past few days.
What's important to note here is that this ban applies ONLY to flying the Confederate battle flag from PUBLICLY owned flagpoles. NOWHERE does the ordinance say that the battle flag is banned from any sort of private display. Indeed, such a restriction would be a flagrant violation of the First Amendment. However, nothing in the First Amendment says that the city has to permit the Confederate battle flag to be flown on publicly owned flagpoles.
In spite of that, and surely not to my surprise, the Lost Causers and neo-Confederates are screaming bloody murder about this, intentionally misconstruing the ordinance to make a ridiculous emotional argument. The image below demonstrates precisely what I mean: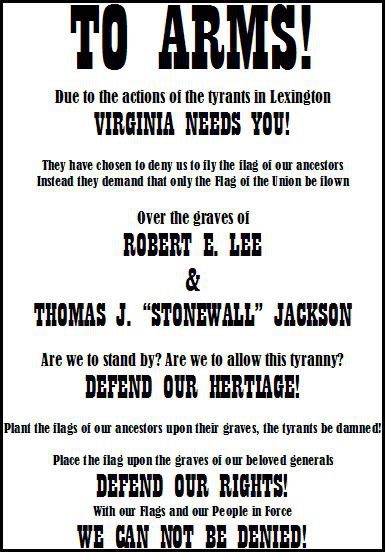 I wish I could say that this sort of emotional, manipulative and wholly inaccurate sort of thing would follow very quickly, but I would be lying if I did. Calling for violence when locally elected officials make a policy decision is NEVER appropriate, but here we have "call to arms". This is grossly inappropriate.
There's no place for this sort of thing in a rational discussion, but here it is nonetheless…..
Scridb filter