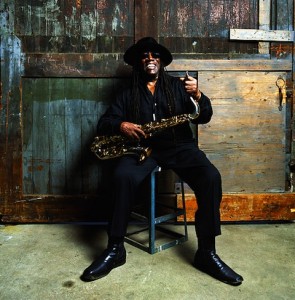 Every now and again, I wander off the reservation and post about something that has nothing to do with my historical work. Today is going to be one of those occasional wanderings off topic, as I would be remiss if I didn't at least touch on the death of Clarence Clemons, The Big Man, yesterday. I hope you will forgive me for doing so.
Music has long played a very important role in my life. I have no musical talent whatsoever, but I have always loved music, and it has long been the soundtrack of my life. A big part of the soundtrack of my life has been the music of Bruce Springsteen and the E Street Band. For reasons that I've never quite understood, Bruce's blue-collar paeans to life have always deeply resonated with me. I first discovered the Boss at 14 in 1975, when his epic Born to Run was released. Playing a major role in the stories that fill "Born to Run" was the honking saxophone of the great Clarence Clemons.
As an example of how large a role the Boss and his music have played in my life, I spent the night before my first day of law school–in August 1984–attending a Springsteen concert in Washington, DC with my good friend Stuart Jones, and then drove all night to get back to Pittsburgh in time to get a couple of hours of fitful sleep before getting up to go to my first day of law school. I never got caught up on my rest again until after I took the bar exam three years later. I've had the good fortune of seeing the E Street Band perform live eight times in my life, and I now worry that there with Clarence's passing, there will be no more such opportunities.
Bruce knew how much Clarence meant to the band and to the fans. He always introduced the Big Man last, and he acknowledged his importance in the song "Tenth Avenue Freezeout", from Born to Run:
When the change was made uptown
And the big man joined the band
From the coastline to the city
All the little pretties raise their hands
I'm gonna sit back right easy and laugh
When scooter and the big man bust this city in half
In the fall of 1982, my senior year in college, I got to see Clarence's own band, Clarence Clemons and the Red Bank Rockers, in a concert at Gettysburg College. The band featured Clarence, obviously, Max Weinberg, and most of the horn section of the Asbury Jukes, and it was a fun, rollicking night. After the show, I got to chat with Max and Clarence for a while, which was a great thrill. They were willing to talk to a couple of college kids, and we had a few laughs together. I will never forget their kindness to a couple of middle-class college students.
Clarence was not the greatest technical sax player, but he was larger than life, a huge star in his own right–as Bruce so often put it, he was the king of the universe. He was a gentle bear of a man at 6'4″, 270 pounds, with a large personality and an even larger stage presence. The eye naturally gravitated toward him, as he loved the limelight. Before long, it was obvious that, other than Bruce himself, Clarence was the one member of the E Street Band who was irreplaceable. Indeed, I cannot even begin to imagine hearing something like "Jungleland"–Clarence's most famous and most epic solo, one that still gives me chills when I hear it today–without Clarence's horn.
I can't help but wonder whether Clarence's untimely passing yesterday at the too-young age of 69 won't mean the end of the E Street Band–I hope not, but as I said, I cannot imagine it without the Big Man's outsized persona and his even bigger horn. For now, rest in peace, Clarence. Thank you for the memories, and thank you for filling such a large place in the soundtrack of my life. You will be missed.
It's a sad day on E Street today…..
Scridb filter