As I mentioned here last week, Bud Hall–NOT the president or board of the Brandy Station Foundation, which should be doing this sort of work–called the Army of Corps of Engineers about the destruction of critical battlefield land at Fleetwood Hill on the Brandy Station battlefield.
Here is the damage done to Fleetwood Hill: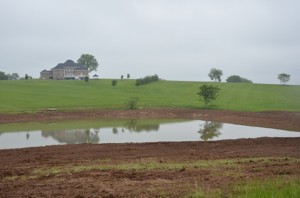 Note the hideous McMansion in the background. To see larger images, just click on the photos.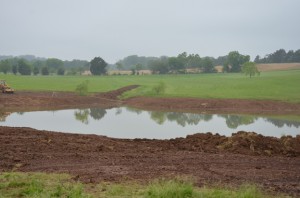 The Corps of Engineers did an inspection and has acted. Here is the letter that was sent to the landowner, Tony Troilo:
DEPARTMENT OF THE ARMY
NORFOLK DISTRICT, CORPS OF ENGINEERS
FOR NORFOLK, 803 FRONT STREET
NORFOLK, VIRGINIA 23510-1096

May 13, 2011

Northern Virginia Regulatory Section (Flat Run)
NAO-2011-990

Mr. Tony Troilo
[address deleted]

Dear Mr. Troilo:

On May 11, 2011, Mr. Hal Wiggins of my staff visited your 60-acre property located off Route 685 near Brandy Station in Culpeper County, Virginia. Based on this site visit there appears to be earthmoving activities by bulldozer in and adjacent to approximately 600 linear feet of a perennial stream, known as Flat Run. It is our understanding that you intend to construct a private pond. Our office was notified regarding your recent work in Flat Run. Flat Run is a perennial tributary to Rappahannock River and is a water of the United States regulated pursuant to Section 404 of the Clean Water Act.

Please be advised that the unauthorized discharge of fill material in Flat Run is in direct violation of Section 404 of the Clean Water Act (33 U.S.C. 1344), which requires a Department of the Army permit prior to initiating work in the waters of the United States.

In addition, we have been advised by the Virginia Department of Historic Resources that your unauthorized work has occurred within the Brandy Station Battlefield Historic District, a property that is eligible for listing in the National Register of Historic Places. In accordance with Corps regulations 33 CFR 320-330, no work can be authorized in waters of the United States which may affect historic properties listed, or eligible for listing, in the National Register of Historic Places unless and until the Norfolk District has complied with the provisions of 33 CFR 325, Appendix C.

This letter constitutes formal notice to you to cease and desist any unauthorized activities in Flat Run.

To facilitate my investigation of your activities, you are requested to provide in writing your reasons for placing fill in waters of the United States, the dates that fill was placed in these waters and the contractor who performed the work, the dates the work was performed, a copy of any state or local authorizations for this work, the reasons why this work was performed without Department of the Army authorization, and a copy of any wetland and/or stream delineations prepared for this property. Your written responses to these questions must be received by this office within fifteen days of receipt of this letter. We request that you assist us in resolving this matter.

In the interim, you must install any appropriate silt fences, hay bales, and/or check dam, and take any action required by Culpeper County pursuant to State Sediment and Erosion Control standards to control sedimentation in Flat Run in order to prevent impacts to downstream water quality. Mr. Wiggins can assist you in determining appropriate interim measures.

We are sending a copy of this letter to the Virginia Department of Environmental Quality, Virginia Marine Resources Commission, Virginia Department of Historic Resources, the Environmental Protection Agency, U.S. Fish and Wildlife Service and Culpeper County.

As soon as my investigation has been completed, you will be notified in writing as to any further action that may be required. In the interim, should you have any questions, please contact Mr. Hal Wiggins at xxx-xxx-xxxx or xxxxxxxxx@usace.army.mil.

Sincerely,

Nicholas L. Konchuba
Chief, Northern Virginia
Regulatory Section
The emphasis is in the original of Mr. Konchuba's letter.
And so the destruction of Flat Run has been halted, but major damage has been done that will require extensive remediation in order to restore it to its previous condition, all of which will be at Mr. Troilo's expense. Mr. Troilo will be required to hire an approved consultant to develop a restoration plan, and that plan will have to be approved by the Corps of Engineers. There will likely also be a fine involved too.
Halting the destruction of the battlefield has been the work of the dedicated FORMER members of the board of directors of the BSF. Specifically, this was done by the people who resigned from the board in protest over the election of Joseph McKinney. There has been a complete and total abrogation by the BSF of its duty to protect the battlefield by the organization that is tasked with doing so.
Mr. McKinney, you have allowed your conflict of interest to get in the way of the preservation of the battlefield, and have permitted permanent decimation of core battlefield land. Do the honorable thing and resign, as you have no business being at the head of a battlefield preservation organization.
UPDATE, MAY 17, 2011: The press is now onto this story. An article on this appears in The Fredericksburg Freelance-Star today.
Scridb filter