I have previously told you of the construction of a large McMansion atop the crest of Fleetwood Hill, on the very spot where thousands of Union and Confederate cavalrymen clashed in mortal combat on June 9, 1863. The owner of this obscene eyesore is a man named Tony Troilo, and he built that hideous blight to spite preservationists. The Brandy Station Foundation and Civil War Trust own property on either side of this hideous house.
Tony Troilo is now thumbing his nose at preservationists again. At the bottom of Fleetwood Hill courses Flat Run, a small, perennial stream that existed at the time of the battle. A portion of Flat Run was turned into a small pond at the foot of Fleetwood Hill years ago–it was already there when I first visited the battlefield in 1994. Without seeking permits from either Culpeper County or the U. S. Army Corps of Engineers, he has already devastated the precise location where Capt. Joseph Martin's guns of the 6th New York Independent Artillery fought–and were seized by Lt. Col. Elijah V. White's 35th Battalion of Virginia Cavalry–to hugely expand the size of his pond and to build a dam, which could be an illegal impoundment and diversion of Flat Run. Several hundred feet of Flat Run has been disturbed, and Troilo is trying to install a dam where one did not exist previously. This construction obliterates the epicenter of an important historic area. Indeed, this is "Core Battlefield" as designated by the National Park Service's American Battlefield Protection Program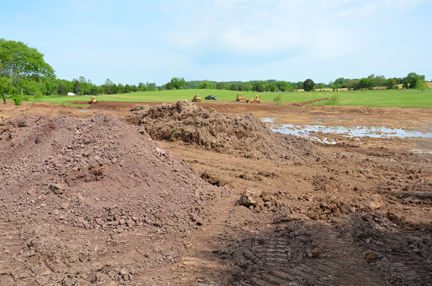 Yesterday, Bud Hall, BSF's former president, contacted the U. S. Army Corps of Engineers and along with a representative of the Corps, they visited the site today. The Corps of Engineers is now undertaking an investigation to determine whether this construction constitutes a violation of Section 404 of the Clean Water Act.
What's even more reprehensible is that the new president of the Brandy Station Foundation, Joseph McKinney, whom I have called out publicly on this blog, has proved that my fears about his dedication to battlefield preservation are well-founded. It seems that Mr. McKinney has decided not to do anything about the wanton destruction of core battlefield land that he, as the duly elected president of the BSF, is responsible for preserving. I sent Mr. McKinney this e-mail yesterday, which he has elected not to respond to:
Mr. McKinney,

I know that you know who I am, so I won't waste either of our time introducing myself.

I have seen photographs of the work being done by Mr. Troilo to tear up Flat Run. The purpose of this e-mail is to inquire of you what you, as president of a prestigious battlefield preservation organization, intend to do about it, both in your personal capacity, and also in your capacity as the authorized representative of the BSF. It seems to me that attempting to halt the willful destruction of core battlefield land falls squarely within the mission statement of the BSF and squarely within your job description as the elected president.

Please advise. Thank you.

Eric
He has already defended the erection of the McMansion on this blog. His refusal to act to prevent the destruction of battlefield land combined with his refusal to respond to my inquiry amply demonstrate that this man is not committed to the preservation of the battlefield. How someone purportedly dedicated to battlefield preservation can defend such an abomination is a mystery to me, but there it is. Why isn't the president of the Brandy Station Foundation meeting with regulatory officials to prevent the destruction of core battlefield land? Isn't that his sworn duty?
Indeed, it seems clear that Joe McKinney intends to do NOTHING about the wanton and illegal destruction of a critical, core piece of the Brandy Station battlefield. This is a clear abrogation of his duties as president of the BSF.
If you're as outraged about this as I am, then make your outrage known. Let McKinney know that his willful abrogation of his duties is NOT acceptable and will NOT be tolerated.
UPDATE, MAY 12, 2011: I got precisely the sort of weaselly, mealy-mouthed noncommittal non-answer that I expected from Joe McKinney. Here's what he had to say:
Mr. Wittenberg:

Briefly I will describe my responsibilities with regard to the BSF. As president, I consider it my duty to act in the best interest of the Brandy Station Foundation, in accordance with its bylaws and consistent with guidance and policy promulgated by the board of directors. The board, collectively, represents the general membership of the organization. It is not appropriate for me to disclose to you internal board deliberations or discussions.

Joseph McKinney
How's that for a masterpiece of weaselly evasiveness? As a lawyer with 24 years of experience in corporate and business law, I surely didn't need or want an exposition on corporate governance from this guy. What I wanted was an action plan, but he wasn't about to give me anything but evasive non-answers.
Mr. McKinney needs to hear from you: Here's an e-mail address that you can use to let him know what a wonderful job he's not doing preserving this battlefield: director@brandystationfoundation.com
Scridb filter