This photo, taken last Sunday on the steps of the Ohio State House at the Ohio Civil War 150 kick-off event, which featured a speech by Wes Cowan of The Antiques Roadshow, pretty much leaves me speechless. Apparently, there was another event going on downtown at the same time….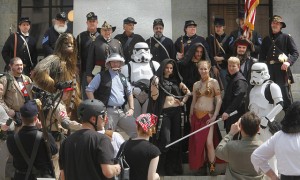 UPDATE, APRIL 18, 2011: I've gotten a piece of hate mail from a fellow member of the Sesquicentennial Commission, slamming me big time for posting this photo. He says it makes the re-enactors look bad and that it also makes the Commission look bad. While I am not a re-enactor and personally don't get it, I have plenty of friends who are re-enactors who take it very seriously by trying to get it right, and it was never my intention to offend any of them. My intention was to take a photo that HAD ALREADY SPREAD ACROSS THE INTERNET by the time I saw it, and have a little bit of fun with it. As I told him, if he takes himself so seriously as a re-enactor that he can't have a laugh at a silly, funny picture, then that's a real shame
As for the Commission: My membership on the Governor's Advisory Commission on the Civil War is a matter of great pride for me. It's important to me to have been asked to serve on the Commission, as I think that I have something to offer. I take that responsibility VERY seriously, although I try never to take myself too seriously (although I admittedly don't always succeed).
Unfortunately, I could not attend the event, as I had already committed to do the event in Greencastle, PA months before the idea for this event was even cooked up. I felt it would be disingenuous to brag about an event I could not and did not attend, and at the same time, I wanted to let it be known that we can all have a little fun with this stuff, that there's no reason to be as serious as a heart attack about it all the time. It certainly was not intended to belittle the effort that went into planning and executing the event–which was substantial–or to disrespect anyone who participated in it. If any other of my fellow Commission members–other than the member who sent me the hate mail–were offended by my having a little fun with this, then I apologize for offending you. However, I do not, and will not, apologize for thinking that it's okay not to take ourselves–and the commemoration of the Sesquicentennial–too seriously.
Scridb filter