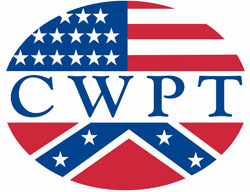 I'm now home from the annual conference of the Civil War Preservation Trust, which was held in Gettysburg this year. More than 500 people attended, by far the largest event I've ever been involved with. I finally got to meet a lot of the CWPT personnel that I've worked with over the years in person, such as Tom Gilmore, David Duncan, Melissa Sadler, and Rob Shenk. It was really nice being able to put faces with the names.
There were lots of big name historians present, including Ed Bearss, Kent Masterson Brown, Richard McMurray, Ted Alexander, Jeff Wert, Dick Summers, and others of similar talent. It just wouldn't be a tour if Ted Alexander didn't get a bus stuck, and he managed to do so on Friday. So did Ed Bearss. Kent Brown's bus not only got its front end all dinged up, it also took out a row of mailboxes on the West Virginia side at Falling Waters, undoubtedly earning the undying love of the local landowner upon whose property he and his busload were trespassing.
I had a full day tour of cavalry actions at Gettysburg. We toured South Cavalry Field, Farnsworth's Charge, Brinkerhoff's Ridge, and East Cavalry Field I had arranged to bring my group onto the grounds of the Rummel Farm on East Cavalry Field, and Dan and Alice Hoffman, who own the farm, rolled out the red carpet. Dan brought out his Spencer rifle and a Burnside carbine, lots of bullets and other relics, photos of the original house, and other goodies. They allowed the two guns to be passed around, and you should have heard the "oohs" and "ahs" from the assembled crowd. It was hot and muggy, and they had had very heavy rains for the two prior days, so the ground was saturated. Everybody got wet and muddy, but nobody seemed to mind.
I got to see some old friends. J.D. and Steve Stanley were there, signing copies of their new book The Complete Gettysburg Guide, and I got one of the advance copies. Great job, guys. Old friend Marc Ramsey of Owens and Ramsey Books of Richmond was there. Friday night, we had a fabulous dinner at Gina's Place in Bonneauville, where I got to see a bunch of old friends. Saturday night was much the same.
I can't say enough good things about the CWPT. This organization, which has more than 50,000 members, has saved in excess of 25,000 acres of battlefield land. There is no more effective advocate for battlefield preservation anywhere, and I wholeheartedly support the organization's efforts and the fine work that it does. None of the land that has been preserved at Trevilian Station could have been saved without the help of the CWPT, and there is plenty more work to do at Trevilians and at many other locations around the country. I encourage all of my readers–and I know that many of you already do–to support the efforts of the CWPT in any way you can, including donating money to help to acquire battlefield land before it is lost forever.
After the conference ended, we traveled to beautiful Middleburg, VA for a memorial for Deb Fitts, the late wife of my dear friend Clark B. "Bud" Hall, and got to see still more friends, including Cricket Bauer Pohanka, whom I hadn't seen since her husband Brian died, and John Hennessy, the chief historian at the Fredericksburg and Spotsylvania National Battlefields, whom I rarely get to see. We drove partway home last night, found a hotel, and finished the trip this morning. I actually got in half a day at the office, which is important for cash flow reasons.
Friday, it's back to Virginia, this time to lead tours at Kelly's Ford, Brandy Station, and Trevilian Station. I hope that there will be good news shortly to report about our ongoing preservation efforts at Trevilian Station.
Tonight, I'm tired. Imagine that.
Scridb filter