WARNING: Today's post has absolutely nothing to do with the Civil War.
After three-plus months of inexplicable delays, Susan and I today began our grand adventure.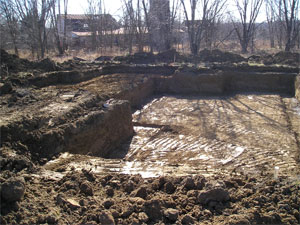 As I write this, the excavators are finishing up the digging of the hole for the foundation for our new house. The process of building a house is something entirely new for both of us. I grew up in a condo complex, and the house we live in now was built in 1969. Susan grew up in two houses–one more than one hundred years old, and the other more than fifty. Consequently, this whole process is pretty alien to both of us.
We're building in a very small but rapidly expanding community. Five years ago, it was a small, rural town of perhaps 2000 people with no recent development. However, the inevitable spread of Columbus' urban sprawl has reached this little town, and in the past several years, there have been at least four large subdivisions begun. Two, including the one we're building in, are for larger, more expensive homes. One is for mid-sized production homes by a large developer, and the other consists of very small, densely packed houses that I call, not lovingly, "cheeseboxes." All of this explosive growth–and there WILL be more–strains the infrastructure of this small town, which has only one guy responsible for building permits, plan approvals, and inspections. The poor guy is probably swamped with work most of the time.
Initially, it took forever to get the construction loan approved. Why? We're building the biggest house in the area in years, and they had a difficult time finding comps to make sure that the value would support the price. This added a month to that process. Foolish me. I assumed–incorrectly–that if I signed a contract to build a house, that was the price, and that was the value of the house. WRONG! In reality, they still do a full appraisal–even before the house is built, based on the plans–to ensure that the house will have sufficient resale value to support the contract price. That was a real eye-opener for me. I had no idea. The thought of appraising something that had not yet been constructed simply never occurred to me.
Then came finalizing plans, etc. They were supposed to dig on February 1. However, the permit guy (see above) was hospitalized, and there was nobody to sign off on the plans and issue the permit. Then, we got bumped back to February 9. No permit yet; it finally issued that day, too late for the work to be done. So, the excavation had to be rescheduled again. They FINALLY commenced digging the hole today.
They tell me it will be six months from today to closing, plus or minus two weeks. We have a LOT to do between now and then to get the existing house ready to sell and to unclutter our very cluttered lives. We will keep everyone posted.
However, for now, it's a bold new world, and one I've never visited previously. To say that it will be an adventure is an understatement…..
Scridb filter