Time for another in my infrequent series of profiles of forgotten cavalrymen….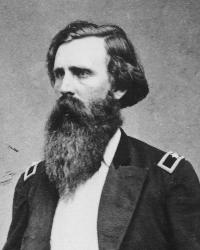 Andrew Jonathan Alexander was born to a wealthy and influential family in Woodford County, Kentucky on November 21, 1833. He was one of six children; one of his sisters married Maj. Gen. Frank P. Blair, the influential Missouri Congressman. His father died in a mill accident on the family estate, and his mother went blind. Opposed to slavery, Mrs. Alexander freed her slaves and settled in St. Louis. Andrew attended Centre College in Danville, Kentucky and then returned to St. Louis, where he was engaged in business pursuits when war came in the spring of 1861.
He was commissioned in the Regiment of Mounted Rifles as a second lieutenant on July 26, 1861. He was immediately promoted to first lieutenant the same day. The new lieutenant was assigned to serve on the staff of Maj. Gen. George B. McClellan, where he impressed the general with his efficiency. Alexander was appointed assistant adjutant general, serving first with McClellan, and later with Maj. Gen. George Stoneman.
He received brevets for gallantry for the 1862 Peninsula Campaign for carrying messages from McClellan to and from Maj. Gen. Samuel P. Heintzelman under fire and for leading various scouting expeditions with the Union cavalry, for performing outstanding scouting and reconnaissance services before and during the Battle of Gettysburg, the Atlanta Campaign, and other engagements, eventually receiving a brevet to brigadier general of volunteers, dated March 13, 1865.
Originally assigned to the staff of Maj. Gen. George Stoneman, he joined Brig. Gen. Alfred Pleasonton's staff as assistant adjutant general of the Cavalry Corps when Stoneman took medical leave after the Battle of Chancellorsville. At the end of July, 1863, Stoneman became the first commander of the newly-formed Cavalry Bureau, an organization intended to provide remounts for the Union cavalry forces. Alexander went with him, serving on Stoneman's staff at the Cavalry Bureau. On September 13, 1863, he was promoted to captain in the 3rd U. S. Cavalry (the successor designation of the Regiment of Mounted Rifles).
When John Buford contracted the typhoid fever that claimed his life, he went to Washington to recuperate, staying in Stoneman's rented home. On December 16, 1863, the day Buford died, Alexander brought him a long-coveted prize: a major general's commission. Buford, who was in and out of lucidity as the end drew near, had a lucid moment and said, "Too late. Now I wish I could live." Alexander helped his fellow Kentuckian sign the commission.
In the spring of 1864, Stoneman was assigned to take command of a division of cavalry attached to Maj. Gen. William T. Sherman's army. When Stoneman left, Alexander stayed on, joining the staff of his successor, Brig. Gen. James Harrison Wilson. Later that spring, Wilson assumed command of the 3rd Division, Cavalry Corps, Army of the Potomac, and Alexander went to join Stoneman's staff once again. He served on Stoneman's staff with Capt. Myles W. Keogh, a dashing Irish soldier of fortune who had loyally served Brig. Gen. John Buford until the dragoon's untimely death on December 16, 1863. Alexander and Keogh developed a very close and lasting friendship that lasted until Keogh's untimely death at the Battle of the Little Big Horn on June 25, 1876 (Keogh and Alexander rest in the same cemetery in Auburn, NY). Alexander married Evelina Throup Martin on Nov. 3, 1864.
When Alexander returned to the army after his wedding, he joined Wilson's staff as his chief of staff. Wilson, nominally Sherman's chief of cavalry, was in the process of assembling a 15,000 man all-cavalry army that became a mounted juggernaut that served as the prototype for modern armored cavalry. Alexander performed especially valuable service in rounding up sufficient quality mounts for Wilson's new army. Wilson urged Alexander's promotion to full brigadier general of volunteers, but the war ended before that recommendation could be acted upon. However, he was brevetted colonel in the Regular Army by Grant.
On July 28, 1866, he was appointed senior major of the newly-formed 8th U. S. Cavalry and settled with his family at Camp McDowell, Arizona, where he and his wife had their first child, Emily. Commanding the Subdistrict of the Verde, Alexander scouted regularly against Apache Indians with the cooperation of the Pima Indians. He also contended with fights among residents of of nearby settlements.
In 1869, he was reassigned, commanding Camp Toll Gate until February 1870, when he went on leave. He rejoined the regiment in New Mexico. While commanding Fort Bayard in 1871, he was ordered to Fort Garland, Colorado at the direction of Sec. of War Belknap. He took leave in 1872 to tend to his ill wife after she had a miscarriage and then returned to duty in 1872, when he reported back to Fort Garland.
He was promoted to lieutenant colonel of the 2nd Cavalry on March 20, 1879. In 1883, he began suffering serious health problems, including malaria, diabetes, and rheumatism. In 1884, he developed a bad inner ear infection and was retired as a full colonel as being unfit for further duty, effective July 3, 1885. His friends (including Generals Sherman and Stoneman) tried to arrange for him to be appointed deputy commander of the Soldier's Home in Washington, D. C., but his health was too poor to permit him to perform the duties associated with the job. He spent much of his retirement writing about his war-time experiences and in maintaining a regular correspondence with Wilson, with whom he became close friends.
On May 4, 1887, while on a railroad train with his wife on their way to their home near Auburn, New York, he died suddenly and unexpectedly. He was a mere 54 years old. Alexander was buried in Fort Hill Cemetery in Auburn, joining his dear friend Keogh there.
Maj. Gen. James Harrison Wilson wrote of him, "Those who had the fortune to know him during the war will readily recall and bear witness to his superb figure, his stately carriage, his bright, flashing blue eyes, his flowing beard as tawny as a lion's mane, his splendid shoulders, his almost unequalled horsemanship…Standing over six feet in height, he was trim and commanding a figure as it was ever my good fortune to behold."
Here's to A. J. Alexander, a forgotten cavalryman who gave good service to his country both during the Civil War and in the years afterward.
Scridb filter