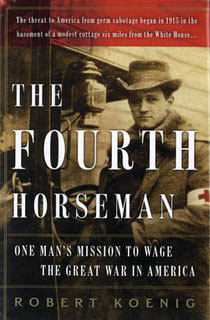 I've long maintained a deep and abiding interest in Hubert "Leatherbreeches" Dilger. As a student of the Eleventh Corps, I've had a chance to study Dilger's actions at both Chancellorsville and Gettysburg in some detail, and I'm convinced that there was probably no better company level artillery officer on either side during the Civil War than Dilger. Dilger's stand in the Plank Road at Chancellorsville–just his six Napoleons against Jackson's whole corps–is one of those wonderful stories that doesn't get the attention it deserves. Dilger was awarded a Medal of Honor for that stand, and rightly so.
He probably also should have been awarded one for his work at Gettysburg on the first day, also. His performance that day was just as spectacular. At one point, he personally sighted a gun, pulled the lanyard, and said, "I"ve spiked their gun for them." The Confederate OR's talk about how a Confederate gun on Oak Hill was put out of commission when it was struck on the muzzle by a Union artillery shell. That would have to be the shot fired by Dilger.
Legend also has it that Dilger fired the shot that tore Bishop Leonidas Polk apart on Pine Mountain during the 1864 Atlanta Campaign. Some recent evidence suggests it wasn't, but it wouldn't surprise me a bit if Dilger did fire that shot–he was that good an artillerist.
After the war, Dilger settled in the Shenandoah Valley of Virginia, where he raised a large family. One of his sons, Anton Dilger, although born in Virginia and a U. S. citizen, went to college and medical school in Germany. Anton spent an idyllic childhood on the family farm in Virginia. Like his father, Anton was a superb horseman. Anton Dilger, physician, U. S. citizen, and fiercely loyal to the Fatherland, became a useful tool. He was recruited by the German government and sent back to the U. S. to act as an agent provacateur.
Taking up residence a scant six miles from the White House, Anton Dilger's task was to develop and implement a campaign of biological warfare against his own country. Specifically, he was sent to the United States to engage in germ warfare against his countrymen. His target would be the horses and cattle supplied to the Allied armies by the then-neutral United States, and Dilger set about cultivating anthrax bacteria and Pseudomonas mallei, the germ that causes glanders, a crippling equine disease. Fortunately, Dilger's scheme failed and his plot was unsuccessful. He died of the Spanish flu at age 34 during the global pandemic of 1918.
Anton Dilger's nefarious scheme has been documented in a new book by a journalist named Robert Koenig titled The Fourth Horseman: One Man's Secret Campaign to Fight the Great War in America. I first learned about this book from a post on David Woodbury's blog (thanks for making me aware of this book, David) and ran out and bought a copy. I'm working my way through it.
It's really a fascinating read. Koenig focuses on German issues, and writes well. He made good use of surviving members of the Dilger family, and has done a good job of telling the story. His Civil War materials are not entirely accurate; he relied on a biography of Hubert Dilger written by one of Leatherbreeches' great grandsons, and it's not particularly accurate in its telling of the story of Dilger's Civil War service. If you can get beyond that–and I highly recommend doing so–it's a fabulous story and filled with lessons that have to be learned. That a foreign agent could do this kind of work–and nearly succeed–literally in the shadow of the White House is a terrifying prospect at best. And that the son of a true American hero–a Medal of Honor winner–could act as a saboteur for a foreign government is even more unfathomable.
I highly recommend this book. It's filled with important but chilling lessons with an amazing connection to the Civil War.
Scridb filter