For those of you not familiar with the works of Roger D. Hunt, I thought I would take an opportunity to introduce you to some of the most valuable reference works on the Civil War out there.
Roger D. Hunt (along with his late friend and collaborator, Jack Brown) has specialized in compiling the biographies, necrology, and photographs of the Union brevet brigadier generals and regimental colonels. In the capacity, Roger has published three books to date. Each one of these books is one of the most useful resources in my library.
The first book was titled Brevet Brigadier Generals in Blue, which is an alphabetical compilation of every Union brevet brigadier general. The book includes a brief biographical sketch of each officer, the date of his death and place of his burial, and for about 95% of them, a photograph.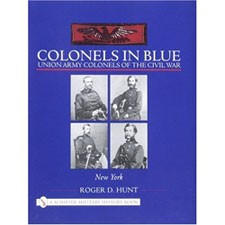 When he finished that work, Roger started on an even more ambitious project: documenting the regimental commanders of every Union regiment. The series is titled Colonels in Blue: Union Army Colonels of the Civil War. To date, two volumes have been published. The first, published in 2001, covers the New England states. The second, devoted just to the regiments of the State of New York, was published in 2003. The books follow the same format as Brigadier Generals in Blue, with the primary difference being that there is often more than one photograph included for the regimental commanders being profiled. These two books were published by Schiffer Books. These two volumes are oversized, and were published on Baxter paper. My only real complaint with them is that they were expensive, at $59.95 per book.
However, Schiffer apparently decided that there is not a sufficient market for these books, because it's not going to be publishing any more in the series. It's too bad, because the volumes published to date are handsome, well-done books. Since it's been several years since the second book was published, I assumed that there would be no more.
I spoke to Roger this evening, and he told me some very good news. Roger informed me that Stackpole Books will be publishing the next volume in the series, which will cover the Mid-Atlantic states, including my home state of Pennsylvania. I will eagerly await its publication.
Roger Hunt has done some spectacular work on these officers, and I commend his work to you. He's also a real gentleman, someone who is always willing to help and who is always willing to share the fruits of his labors. I called him a couple of days ago to ask his assistance on tracking down some information on the ever-elusive Col. William H. Boyd of the 21st Pennsylvania Cavalry, and, as always, Roger responded promptly, and with precisely the information I was looking for.
It's also worth noting that Roger has amassed an awesome collection of images, and that he has donated most–if not all–of them to the United States Army Military History Institute's photographic archive. Many of these images are not available elsewhere, and have been made available to researchers like me through Roger's generosity. I doubt that there are many good recent Civil War books out there that don't include at least one of Roger's photos. His photos grace the pages of many of my books.
In my humble opinion, no serious Civil War library should be without these books, and I cannot say enough good things about them.
Scridb filter